Holley doesn't offer anything for the big block Ford engine, so I was on my own every step of the way (
MPFI conversion
&
DIS/SEFI upgrade
). Of course, this also meant fabricating a custom 60-2 crank trigger kit myself. Not exactly for performance gains, in terms of power. However, electronic EFI distributors usually exhibit
slight
"timing jitter", especially at idle and when revved quickly. Anyway, the crank trigger completely eliminates any timing instability and provides rock steady/accurate timing through-out the RPM range. Also, the 60-2 trigger wheel enabled me to easily convert to Holley's waste-spark DIS (
LINK
), which allowed me to modify/convert my current distributor into a cam sync/oil pump drive unit (
LINK
) at a later date.
http://forums.holley.com/showthread....3038#post33038
(Detailed Crank Trigger/DIS Conversion Information & Reasoning)
https://forums.holley.com/showthread...-great-upgrade!
(Distributor vs. DIS/CNP/COP Ignition Timing Difference & Feel)
I fabricated the crank sensor mounting bracket myself. Top hole is slotted for angular positioning.
I'm using a commercial grade Cherry GS100502 geartooth sensor (stainless steel version available too).
UPDATE:
I upgraded to the industrial grade stainless steel version -
Cherry GS100102
.
I wanted stainless steel sensor for longevity reasons, its immunity to electrostatic discharge, shielded wiring, and
-40°F − 257°F operating temperature. It's a better quality sensor overall (not that there was anything wrong with
the Cherry GS100502). These are both 12mm x 1.0 threaded, 3-wire (22 AWG x 39"), Hall-Effect (solid state) sensors.
I purchased a custom 6" 60-2 trigger wheel (6" O.D., 1.375" I.D.) from
Miller's Mule Machine & Design
($40).
I gave Jason at Miller's Mule all the dimensions (O.D., I.D., even the depth of the two missing teeth).
If using my mounting method, it's a good idea to order the trigger wheel with a .002" smaller center hole,
so you can finish-fit the wheel. You can also ship him your damper and he'll attach the wheel for you.
UPDATE:
I'm now using the Holley
556-107
6" 60-2 trigger wheel. It works just as good as the one from Miller's Mule.
Holley EFI typically uses the 9th-12th tooth, after the missing teeth (in direction of rotation), to align with the crank sensor.
This is performed with #1 cylinder at TDC. The crank sensor mounting bracket can be positioned anywhere around the trigger wheel.
Holley EFI now has various diameter 60-2 crank trigger wheels available, with 1" diameter center holes for custom applications:
https://www.holley.com/products/fuel...tion/ignition/
(Distributorless Ignition System Components)
I machine cut the damper's spacer myself, by installing an 1/8" thick die grinder disc/arbor in my drill press. I made one cut to remove 1/8"
material from the near center of the spacer. I used a pencil wrapped in masking tape through the sensor mounting hole, to mark the exact
location. (Other home machining operations can be accomplished with various die grinder discs, carbide burrs & a high speed drill press.)
No belt driven accessories needed to be moved, and the trigger wheel is well protected behind the slightly larger diameter vibration damper.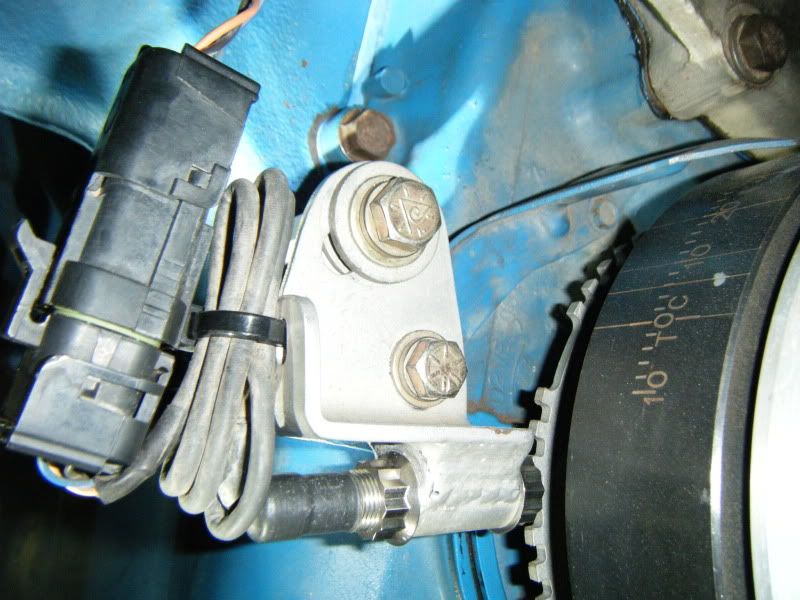 Originally posted by Danny Cabral
Originally posted by Danny Cabral
Originally posted by Danny Cabral
Originally posted by Danny Cabral
Originally posted by 8.6 Magnetic Crank Pickup - Holley EFI Wiring Manual
FYI:
I've been contacted a few times about the jam nuts I'm using with my Cherry GS100102 crank sensor. I didn't like the cheap, thin hexagon jam nuts that came with the Cherry geartooth sensor. They also look unprofessional, and it was awkward using two
3
/
4
" wrenches on such thin nuts in a cramped location. So after a search for
stainless steel
12mm x 1.0 metric nuts, I found the ARP
400-8347
12-point nuts you see in the pictures above (.504" tall & .750" O.D.). I machined them shorter and machined the flange thinner. They use a 14mm 12-point wrench.
Alternate Nuts -
stainless steel
12mm x 1.0 metric hexagon nuts: ClassicAndExotic.com MISC-0259 (
11
/
16
" wrench -
LINK
), or McMaster-Carr.com 91938A160 (
3
/
4
" wrench -
LINK
).
Alternate Sensor -
stainless steel
12mm x 1.0 (2" length), ferrous steel targets only, 8-20 volts, .030"-.040" gap: Holley
554-124
Hall-Effect Sensor (
Instructions
).
Here's a good inexpensive HSS 12mm x 1.0 metric tap (
LINK
) & die (
LINK
) for thread cleaning or custom work.